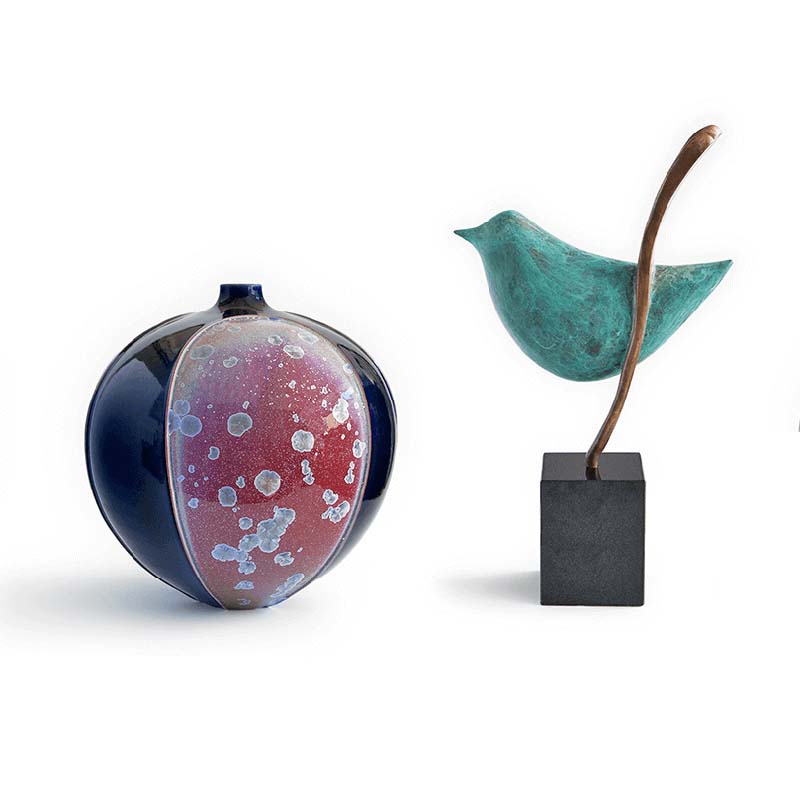 Exhibitions
Ted Secombe's Upcoming Exhibitions.
You can view Ted's work all year round @ Ted's studio and Gallery Showroom – by appointment only (Yarra Valley).
Ph: 0419 572 882 or 0419 004 448
SIMPLEXITY
"The work in this exhibition is my interpretation of form in its purest manifestation. These simple forms provide me with a vehicle for glaze expression that expands on comtempory practice.
My intention is for the works to connect on an etherial level, and I have strived to achieve this outcome."
Exhibition at Malvern Gallery from September 3 – 10
Official Opening Saturday 3rd of September 2-4pm
Preview Friday 2nd of September 12 – 4pm by appointment
Exhibition can be viewed in person from 3rd to 10th September at Malvern daily, continuing online 'till 30th
Location – Malvern Artists' Society Gallery, 1297 High Street, Malvern
Gallery hours: September 3 -10 – Daily 11am to 5.30pm
Online exhibition catalogue: September 3-30, 2022. Please request catalogue at [email protected]
We would appreciate it if you could follow and share the new IG account
Open Studios with Ted Secombe 13 & 14 Nov from 10am to 4pm & Yarra Valley Open Studios 11 & 12 Dec from 10am to 4pm
2020 and 2021 has been an interesting year to work with Porcelain. Many of Australia's clay resources have been exhausted so many clay manufacturers here are importing materials required to produce good porcelains. The result of this, is clay bodies with completely different personalities both in the way they throw on the wheel and their glaze response in the firing of works. Success requires a great deal of adjustment. Losses can be significant with the only way through this being a rigorous testing programme which is frustrating time consuming and expensive. Around 6 months of testing time has resolved the issue and I am now happy with works coming from the kiln.  Some new firing processes are resulting in glazes that are moody and visually complex. I continue to work with simple pure form which is the best vehicle to carry the glazes I develop.
This year we welcome you back to Ted's Studio in Dixons Creek over two weekends in November and December – just in time for Christmas!  Ted's Studio and Gallery will be open to view and purchase  his current works and to see him demonstrating his skills. This year Ted has revisited some of his past glazes (ie. copper reds and celedons), as well as his signature crystalline glazes, matt and gloss.
For enquiries or if you need further information please call 0419 572882 or 0419 004448
Check out the Open Studio Website here.
Please be advised that visitors will be required to sign in using a QR code or by manual registration.  Proof of double vaccination is compulsory and face masks must be worn indoors at all times.  Please adhere to 1.5M social distancing.
Please visit www.health.gov.au for more information.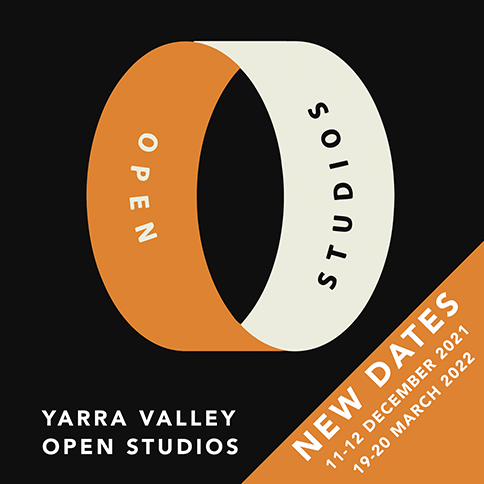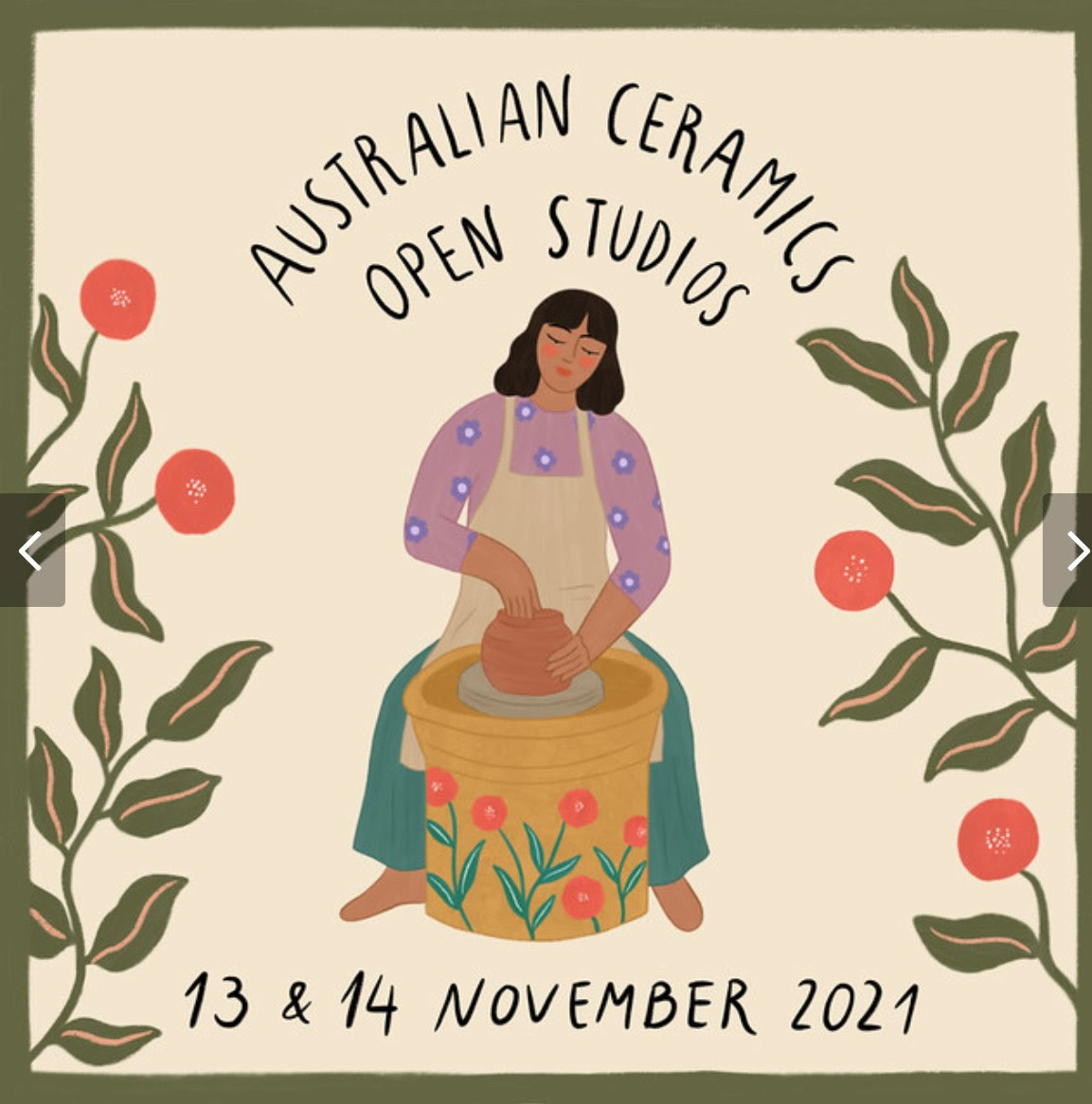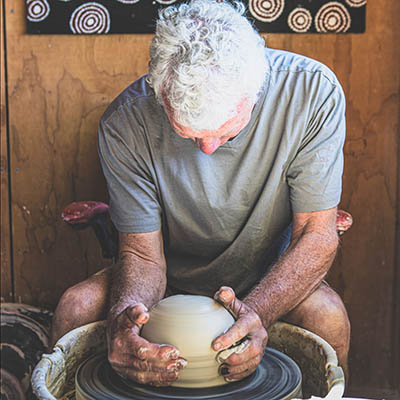 YAVA presents an exciting exhibition VESSELS opens on Thursday 7th November .
VESSELS is a Ceramics Exhibition and comprises over 25 objects from the Margaret Lawrence Ceramics Collection (on loan from the University of Melbourne Ian Potter Museum of Art), together with selected works from four Yarra Valley Ceramicists – Laura Windmill and Master Potters Ted Secombe, Alistair Whyte, and Lynne McDowell.
The evening will be generously hosted by Yering Station Winery and Restaurant, and Four Pillars Gin.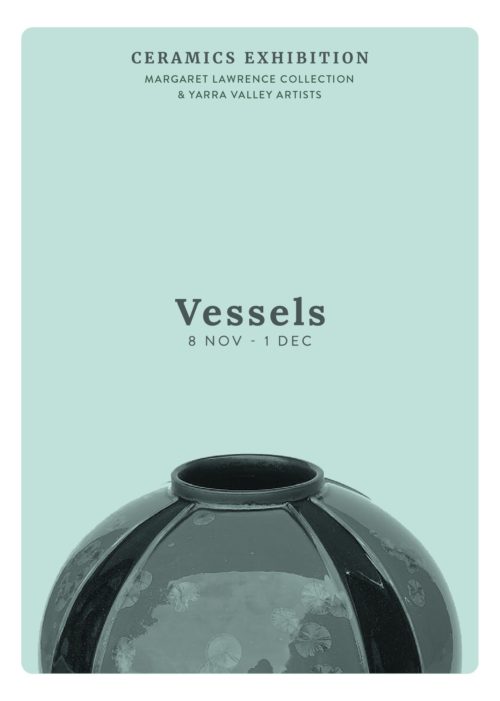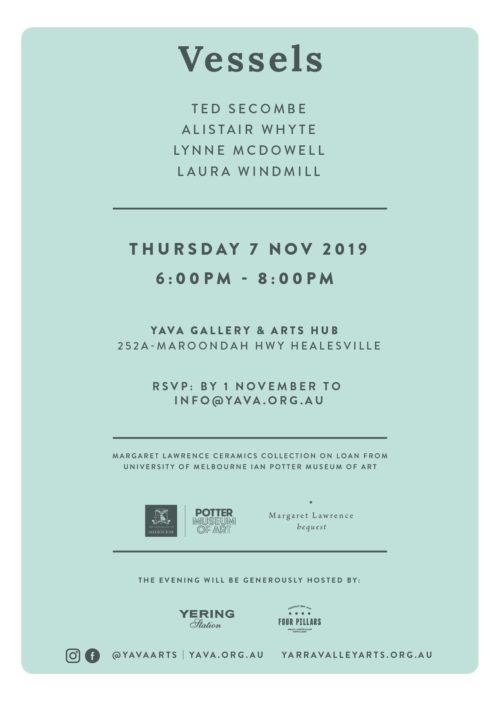 Class Clay and Glass International Symposium November 2019
Chulalong University – Bangkok Thailand 27th November – 2nd of December 2019
Alchemy of Porcelain – SOLO exhibition December 2019
Shridharani Gallery – Delhi India 13th – 23rd of December 2019
Ted will also be conducting two workshops for the Delhi Blue Pottery Trust